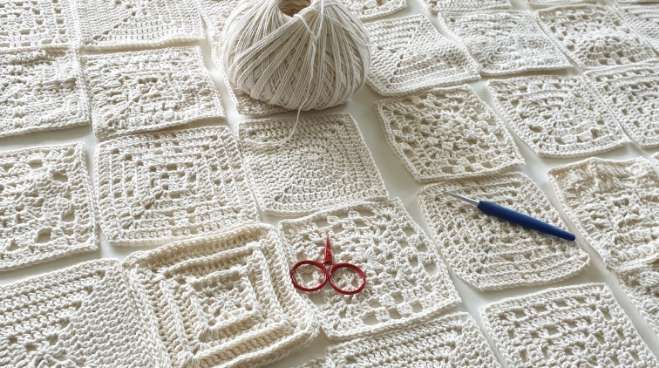 If you know how to crochet a traditional granny square, then you have the skills you need to start Granny Square Academy.
Not sure about your traditional granny square skills? I can teach you all you need to know with my free eBook.
DOWNLOAD MY FREE BEGINNER GRANNY SQUARE CROCHET EBOOK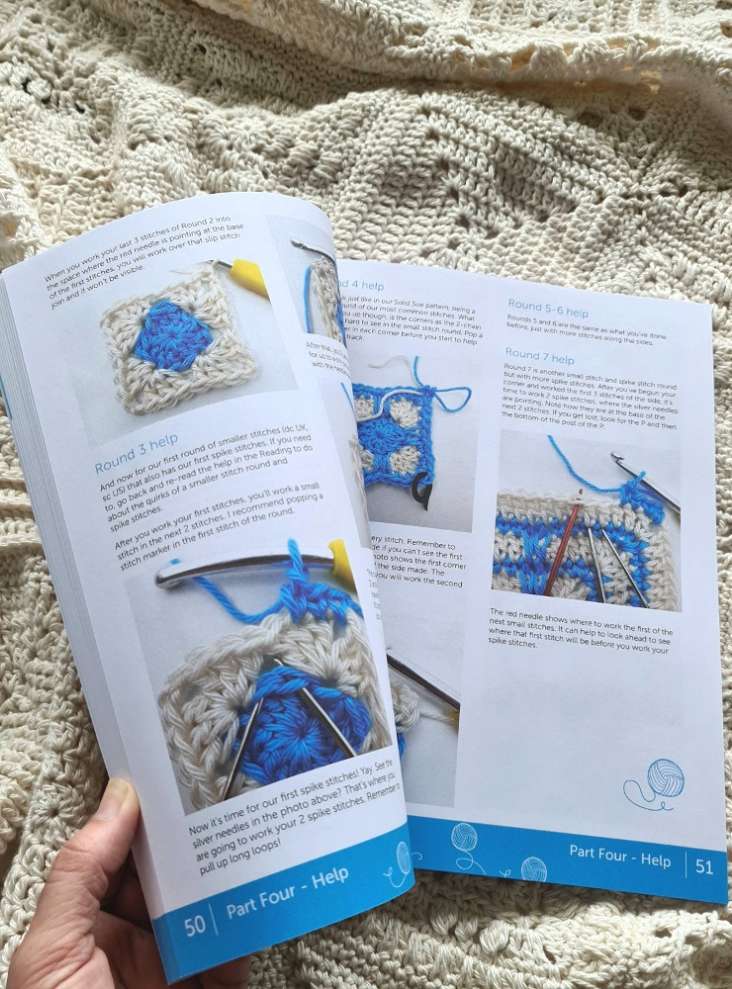 What will you learn in Granny Square Academy?
Oh ALL the things! Here's just a small sample of the topics covered in Granny Square Academy:
anatomy of various crochet stitches
how to do the 4 most common crochet stitches
how to work spike stitches, front posts, back posts, back loops only, clusters
how to read written patterns
how to join granny squares
all my seamless crochet tips like joining with a stitch, what to do instead of ch3 (stch)
how to block granny squares
how to change colour
how to weave in ends and...
a lot more!
I have covered all the little things that get missed when teaching yourself, as often is the case these days. Things like where exactly do you join to when joining to a ch3 (stch)? Tips for how to read your crochet stitches so you can count them properly. That kind of thing.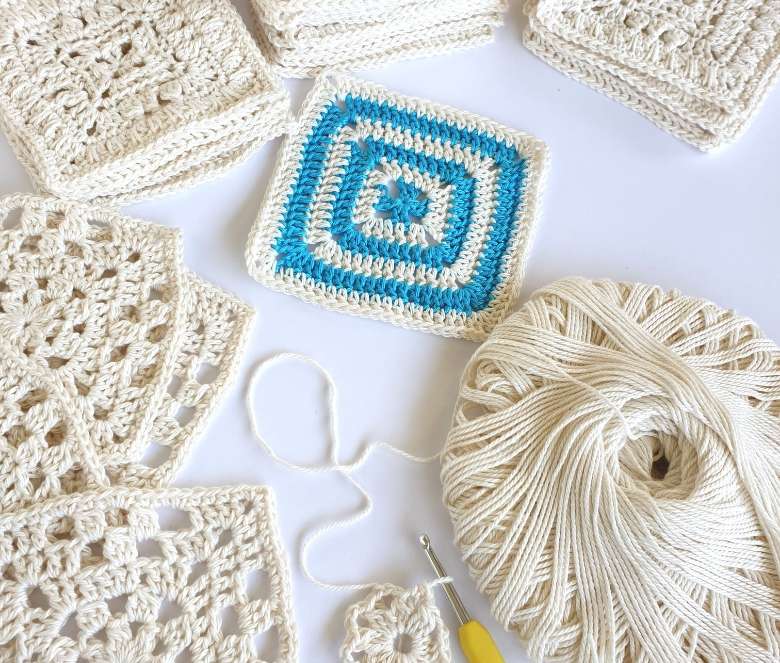 How will you learn all of this?
Granny Square Academy will teach you all you need to know via a PDF download that includes 10x granny square patterns, or in book form. Each pattern has been carefully designed to teach you a new skill and help you master it. You will build on the skills learned with each new pattern in the series.
There are a lot of close up photos, with detailed instructions, as well as video for all of the patterns. I really have covered everything you might need.
If you are having problems at any point, help is at hand. You can email me or join my Facebook Group where lots of folks are able to help, including me at least once a day. You will be able to get the help you need.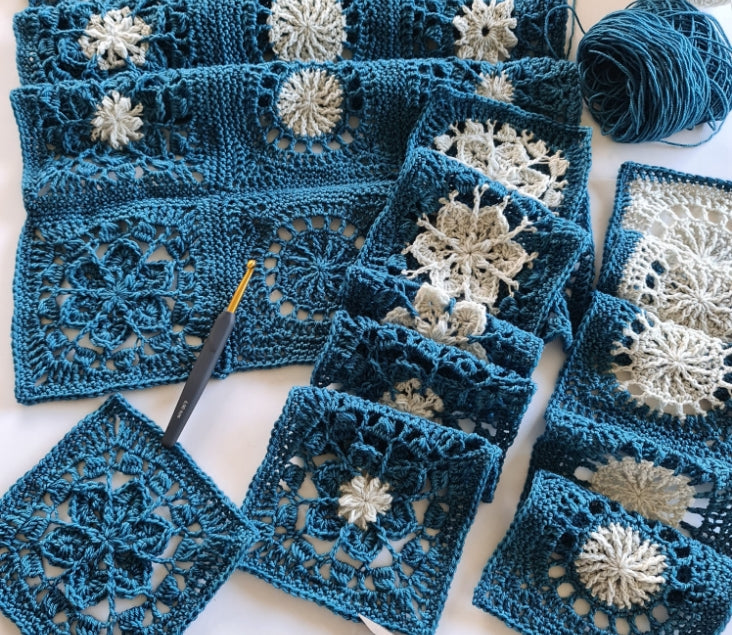 What will you be able to do at the end of GSA?
Once you have completed all the lessons, you will have all the skills you need to tackle any of my written patterns - even the more complicated ones. Sure, you'll still have things to learn, but you will have the confidence and ability to be able to work things out and succeed.
You will be able to use any patterns in my books, Granny Square Flair, Siren's Atlas and Granny Square Patchwork.
How do I join Granny Square Academy?
The entire course with the added bonus of charts for all patterns, is available now as a digital download or physical book.
Regular price

Sale price

$17.00 USD

Unit price

per

Regular price

Sale price

$21.00 USD

Unit price

per
If you're in the US, you can get the book from amazon.com and other online retailers.
If you're in the UK, you can get the book from amazon.co.uk and other online book retailers.
Located elsewhere? Search on your country's popular online book retailers.
Karen E

The best thing I have done for my crochet hobby!

This is an absolutely amazing and one of a kind teaching/learning experience. I made most of the squares and read most of the text, and watched most of the videos. After that I could move on and make, suddenly it seemed, any of the complicated squares in Granny Square Patchwork and other patterns. From GSA I learned to read patterns, learned how to join, how to count stitches around the joining, all those little things in the past I had just 'winged' my way through with my work coming out looking messy. I now feel I can read and figure out virtually any pattern. I sometimes go back to the GSA videos for a refresher as I absorb it at the next level. This is such an exciting (and addictive) journey now that I can feel and see my progress. I play violin and it reminds me of some good lessons with a violin teacher. Thank you Shelley! Additionally these squares, these learning/teaching squares are pretty in their own right.

Nina

Makes a beautiful gift for beginners!

Purchased this book as a birthday gift for my sister who had mentioned wanting to learn to crochet blankets. I have made some of Shelley's patterns so I was confident that this book would be great for her as she knows some basic crochet stitches and it certainly did not let me down, it exceeded my expectations! I had a read of it before gifting and my impressions are that it is very thorough with clear images - it makes it seems like you have someone physically there guiding you. I really like that it explains both US and UK terms as when I was starting out this baffled me so this gives you a helping hand in approaching any pattern. If only it had been around when I learnt to crochet! I think this book would give you to skills needed to not only make something beautiful from this book but also to give you the confidence to progress onto more adventurous patterns. I will definitely be checking out Shelley's other books for myself!

Anna L

Really clear instructions and a delight to have found.

"I felt absolutely walked through the process of making a granny square... next best thing to having someone teach me face to face. Using the pdf pattern in combination with the accompanying video on YouTube really has allowed me to consolidate all the basics and actually launched me into the Granny Square Academy with confidence! I am so grateful to have come across Shelley... she teaches crochet in a language that I can fully understand."

Teri M

Granny Square Academy

Granny Square Academy is BRILLIANT! I have crocheted for years and have never been able to elimate the dreaded line in granny squares where you complete 1 row and go up for the next, which really spoils the look of the thing. First video lesson taught me how to elimate this problem and subsequent lessons are just as informative. Only got to square 3 so far but am enjoying the course immensely, and finding it really helpful to have the videos as well as the written course.

THANK YOU!

Lisa C

My crochet journey.

"I already knew how to do all the basic stitches and make myself a scarf or blanket or beanie. What I lack is finesse, the finishing details. I still always feel like a newbie! What I'm getting from Shelley is the confidence to feel like I can start and finish something with pride. There is so much detail in the book and the tutorials are invaluable! Thank you for the time you have taken to create the whole package Shelley!"

Helen B

Granny Square Academy a true beginner's tutorial and RPL tool.

"I'm a self-taught crocheter, picking up bits of technique here, pattern instructions there, a little video or craft group show and tell over there. Granny Square Academy, with the step-by-step photographs, the US and UK terminology and charts, truly was a Recognition of Prior Learning assessment giving me the confidence in the skills I did have and helping me to correct bad habits I didn't know I had."

Heather M

Excellent!

"This book is of value to every stage of crochet experience. I would say I am moderately experienced, and I found it of value. I bought the book for a granddaughter who is new to crochet, but wildly enthusiastic. It has given her such clear instructions/pictures that she is sailing ahead, instead of having to puzzle out what to do next. As always, Shelley's writing is clear and to the point. Thank you, Shelley, for advancing the cause of good crochet ... worldwide, even!"

Zoe

Excellent for beginners

"This book has been a great way to expand my knowledge of crochet and I've loved putting the project together. I was a bit nervous as I'm left-handed but the instructions are easy and the links to mirrored YouTube tutorials made such a difference. Thanks for putting together such a wonderful resource."

Sonja G

Granny square academy

"I absolutely love this!!

I'm so glad I bought this book.

It's so easy to follow, teaches you the basics of crochet while also building on your current skills.

I'm loving being a newbie in this wonderful world of crochet with this super helpful, informative, and picture guides for round-by-round 👍

Buy this book, you won't regret it. A truly wonderful addition to any craft person's creative space."

Laura C

Invaluable Resource

"This book is such an amazing resource for not just beginners but people who've been crocheting for a while. It has so many incredible tips for how to create really neat (as in uniform) granny squares, which for someone who's really distracted by unevenness and will frog for days to make something look perfect is such a time- and sanity saver."

Erica J

I learnt so much even when I thought I knew how to crochet!

"The tuition Shelley Husband gives with her notes and videos is excellent. I have taken classes and watched many YouTubes on crochet but Shelley's are another level up."

Charlotte

I love it!

"I'm finding it so easy to follow and am amazed how quickly I am learning so many different granny squares! I have bought this book for 3 friends now! The book makes it so easy to follow if I can do it anyone can! So excited to get the follow up book when I master these squares!"

Susan W

"I love your books!! No doubt about it you are a fabulous TEACHER besides being a professional at crocheting. I have just about mastered every square in "Granny Square Academy" and have made 5 Afghans since 2020, using squares from that book!! I made 4 of them, one for each grandchild, and one is for me."
Get in Touch
If you have any questions at all about anything I do, please get in touch.